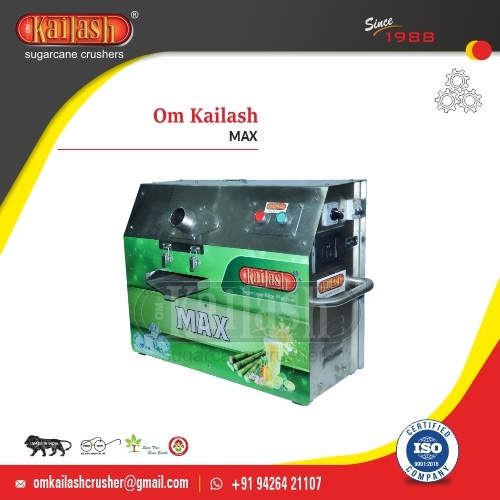 Sugarcane juice machine portable heavy Om Kailash MAX
Product Description


OM KAILASH – MINI STAINLESS STEEL ROLLER
SUGARCANE JUICE MACHINE

Brand - OM KAILASH
Model - Max
Type of Eng Use - Commercial
Grade - Automatic
Type of Machine - Mobile
Gear Box - Helical
Crushing Capacity - 200 kg of sugarcane per hour
Maximum Power - 1 HP
Application - Sugarcane
Voltage - 1ph, 230V
Phase - Single Phase
Frequency - 50-60Hz
Juice Touching Parts - S.S. 304
Body - S.S. 304
Dimensions - 28" X 14.5" X 19.5"

Product Description
OM KAILASH BRAND 3 ROLLER SUGARCANE JUICER COMPLETE WITH 1 HP SINGLE PHASE 220 VOLTS / 50 HZ. ELECTRIC MOTOR, MACHINE CONSTRUCTION BY SS 304
JUICE PRODUCTION 200 GLASSES / HOUR.
TECHNICAL SPECIFICATIONS OF MAX
Runs on 1 HP single phase electric motor which is inbuilt.
3 Food-grade stainless steel 304 rollers.
Machine net weight - 85 Kg.
Full body & all contact parts made of stainless steel 304.
Power Consumption: Very economical
FEATURES OF MAX
Crushes 125-150 Kg sugarcane in 1 Hour giving 200 Glasses of juice each of 200 ml.
Juice is extracted completely in single crushing. Second crushing not required.
Very compact, can be moved from one place to another easily.
Very efficient, sturdy and noiseless.
Very simple and easy to operate, even a child can easily operate it.
Overheat Protection.
Push to Start
Runs on single phase, so can be used anywhere. (Where there is electric connection).
No open parts as in traditional sugarcane crushers. So, contamination from flies and dust is avoided.
No maintenance required except regular cleaning. Very easy to clean. Just pour 2 glasses of water at sugarcane inlet and machine is cleaned.