Double Mill Sugarcane Crushing Machine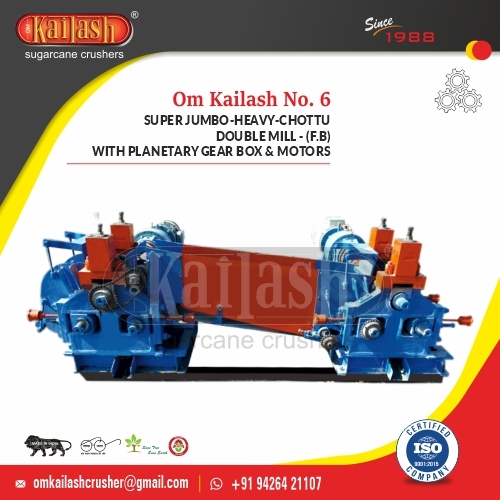 Double Mill Sugarcane Crushing Machine
Price And Quantity
Product Specifications
Sugarcane Crusher

MILD STEEL
50 Horsepower (HP)

Kilograms (kg)
Product Description
Double Mill Sugarcane Crushing Machine
OM KAILASH NO.6 - SUPER JUMBO-HEAVY-CHOTTU
DOUBLE MILL SUGARCANE CRUSHER WITH
PLANETARY GEAR BOXES & MOTORS
FOUNDATION FOR BOTH MILLS WILL BE FABRICATED FROM
6X 3 M.S. SCHANNELS
MILL BASE FABRICATED FROM 6X 3 M.S. SCHANNELS.
SIDE PLATES
MILL ROLLERS & SHAFTS
Cast iron Rollers fit on ultrasonically tested M.S. Shaft conforming to EN-8 or equivalent IS standard.
Size of Roller 11 Length x 14Dia. Nominal size
6- C.I. Roller, 2-Mills,
A- Roller Dia - 280 mm Length - 356 mm,
B- Roller Dia - 280 mm Length - 356 mm,
C- Roller Dia - 267 mm Length - 356 mm,
STUDS AND SETTING KEYS
TOP HOLTER & SPRING SYSTEM
Top halter shall be of Mild Steel with Spring system for rollers. It is to move up and down when there is a load on the roller.
SIDE CAPS
TOP AND SIDE BUSHING
GREASE CUP & PIPES
A+B ROLLER SCRAPERS
C-ROLL SCRAPER & STAND
COUPLING & TELL BAR
SIDE GEARS
Crusher side covers shall be fabricated from M.S. Sheet.
Sugarcane Bagasse Exit Window shall be fabricated from Mild Steel plates.
Juice Collecting bottom Tray shall be Mild Steel.
Intermediate Carrier Complete with side plates, Rubber Belt, Rollers, Sprockets & Chains.
Double Coupling - Rpm -7 / 8.
Tell Bar system to couple the Gear Box with Crusher with Coupling.
Foundation Bolts for the Mills will be provided.
Spanner Set.
Juice Sewer shall be Mild Steel.
PLANETARY GEAR BOXES WITH MOTORS