Double mill sugarcane crusher for jaggery making machinery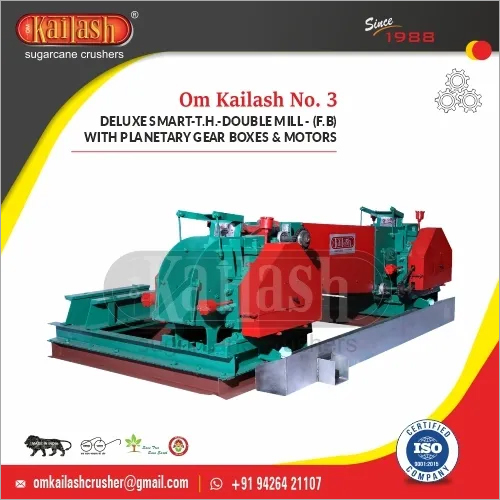 Double mill sugarcane crusher for jaggery making machinery
Price And Quantity
Product Specifications
Sugarcane crusher, Jaggery Plant, Mini sugar palnt

40 Ton/day
Gear Drive

15+15 = 30 H.P. Horsepower (HP)
Product Description
OM KAILASH NO.3 DELUX SMART TOTAL HEAVY DOUBLE MILL SUGARCANE CRUSHER WITH PLANETARY GEAR BOXES & MOTORS 247 MM Dia 254 MM LENGTH - Size - 9.75 Dia. x 10

Mill Foundation for both Mills Fabricated from 5x2.5 channel.
Mill base fabricated from 5x 2.5 channel.
Side Plates shall be fabricated from tested mild steel plates. Side Plates are mounted on the base frame provided with the mill.
Mill Roller shall be Cast iron to be fitted on tested M.S. Shaft conforming to EN-8 or equivalent IS standard.
Size of Roller 9.75 Dia. x 10 Length Nominal size
6- C.I. Roller, 2-mills.
Top Studs are to hold the Top Caps to avoid Roller Movement and side Studs are Long and throughout the side plates both sides to hold the Side Caps. Setting Keys are to adjust the Brackets for Roller setting.
Side caps shall be of Mild Steel. Side caps embrace the mill housing and this gives additional strength against any lateral thrust of the top Bushing with two bolts which are only for securing the cap in its working position.
Top roller Bushing shall be made out of phosphorous bronze. Bushings have Brackets which embrace the mill Side Plates having about 1.5 mm lateral play. Side roller Bushing shall be of M.S. Brackets lined with phosphorous bronze metal.
Automatic Grease Lubricating system is to lubricate Grease to all the bushings at a time when required and there is a timing system to adjust when to do lubricating. With 0.5 H.P. Electric motor.
A,B Roller scrapers shall be of Mild Steel and are adjustable. The top scraper of the top roller shall be of floating type. The scraper blades for the juice grooves provided on the feed rollers shall be also adjustable.
C-roll Scraper shall be of Mild Steel construction fitted with Mild Steel C-roll Scraper stand with means of adjustment in horizontal direction from the outside. C-roll Scraper shall be grooved to match the rollers.
Coupling jointer are made of Cast Iron. One coupling will be attached to crusher shaft and the other coupling will be attached to gear box shaft along with tell bar to couple the gear box and crusher coupling.
Intermediate Carrier shall be 10 wide assuring M.S. Side Plates, Inter Carrier Rubber Belt, Supporting Rollers, Sprockets & Chains. It shall be driven by mill.
Sugarcane Feeder shall be Mils Steel.
Sugarcane Bagasse Exit Window shall be fabricated from Mild Steel plates.
Crusher Side Gear shall be having hub cut 12 teeth.
Crusher side cover shall be fabricated from M.S. Sheet.
Juice Collecting bottom Tray shall be Mild Steel.
Juice Sewer Shall Be Mild Steel.
Both Mills will be Driven by Planetary Gear box with 15 H.P. Electric Motor.
Foundation Bolts for the Mills will be provided.
Spanner Set. Heavy Duty, New System.
Crushing Capacity - 40 Tons For 24 Hours
Total H.P. = 15+15 = 30 H.P.
Trade Information
Yes

Africa, Middle East, Western Europe, Eastern Europe, South America, North America, Central America, Australia, Asia