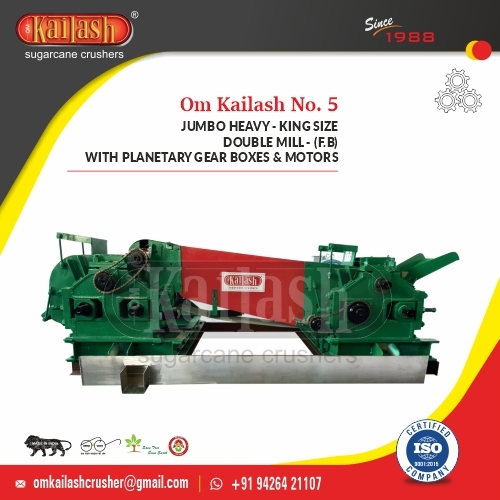 Double Mill Sugar Cane Crusher
Product Description
Double Mill Sugar Cane Crusher
We are commercializing in an immense assortment of mechanically structured Double Mill Sugarcane Crushers. They are made from the high grade standard parts and components using the most innovative technology by our experts. They have a smooth and fine finish. The machines are experiencing a huge market demand owing to their uniform configuration, high tensile strength, corrosion resistance and damage free body. The Double Mill Sugarcane Crushers have the ability to function excellently for an adequate time period without any hassle.

OM KAILASH NO. 4 – DOUBLE SUPER DELUXE - MODEL
DOUBLE MILL WITH CANE CARRIER & CUTTER-1 - JP

267 MM Dia – 267 MM LENGTH - Size -10½" x 10½"

MILLS-2,6- ROLLERS,CUTTER-1

GRADED SHAFT

GRADED ROLLER

GUN METAL BUSHES

TEPPER ROLLER BEARING

MAIN CANE CARRIER 20'

HELICAL GEAR BOX -1NOS

OIL BATH RAIN PROOF GEAR BOX

CRUSHING CAPACITY -2750-2950 KGS PER HOUR / 70 TON FOR 24HOURS

PULLY RPM -240 / COUPLING RPM -7 / 8

MOTOR H.P. – 40+20+3 = 63 H.P.